800mm Painted Polystyrene Egg
800mm Painted Polystyrene Egg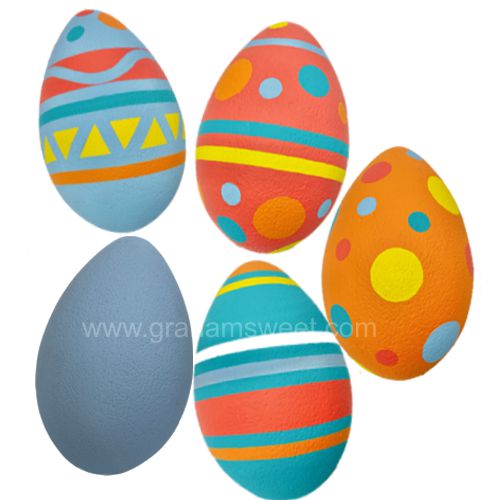 800mm Painted Polystyrene Egg
---
1 x 800mm high polystyrene egg.
Material: Produced from expanded polystyrene containing a flame retarding additive.
Finish: Coated with idenden ( which makes it stronger, more resistant to fire and also gives a better surface to paint on ) then finished with Matt emulsion, with a top coat of clear varnish.

Design: Select above ( please note designs may vary slightly from the image, but will be similar in theme )
---
Preferred Colours ( leave blank for the colours in the image ): Type Preferred colours 5 max

---
---
Design : 
If you select sold colour, the egg will be this colour all over.  If you select spots or stripes, then you can select up to five colours to make up the spots/stripes, however its not necessary to pick five, this can be done with as little as two. 
Please indicate the colours you'd like on your egg in the comment box under preferred colour section before you add it to the cart. 
If you would prefer to call to discuss the colours, please contact us on:  +44 (0)29 20 60 21 90
We can also painted eggs with custom designs. See here for more info.
Displaying your egg :
If you select hanging points then your egg will be fitted with a secure hanging point at the top tip of the egg. For larger eggs, (900mm and over) these will all be tested by a lifting company.  We can also fit the hanging point upside down, so you can secure the egg with a chain or similar - when displaying on the ground. Pelase let us know if you would like this. 
If you were to select a base, you have the option to choose from wooden bases finished in matt emulsion, colours; Green, White or Black. If you have an alternative colour you'd prefer then please get in touch. There is also an option for a ring base, this is something the egg would sit on and not be securely fixed to so not suitable for outdoor use. 
Material & Usage: 
These painted eggs are produced form expanded polystyrene containing a flame retarding additive.  They are coated with idenden, and then finished with matt emulsion - with a top coat of clear varnish. 
The eggs are suitable for use inside and outside ( in normal weather conditions ) .  Please note - the idenden is not a hard coating like fibre-glass,  it does make the polystyrene much more durable but not vandal proof.  If using outside, you must take care that the eggs are not in a position where they could blow over onto people. in venerable areas, the bases should be fixed or weighted down.  Feel free to contact the studio for any further guidance on this. 
This is a preview of the recently viewed products by the user.
Once the user has seen at least one product this snippet will be visible.
Recently viewed Products